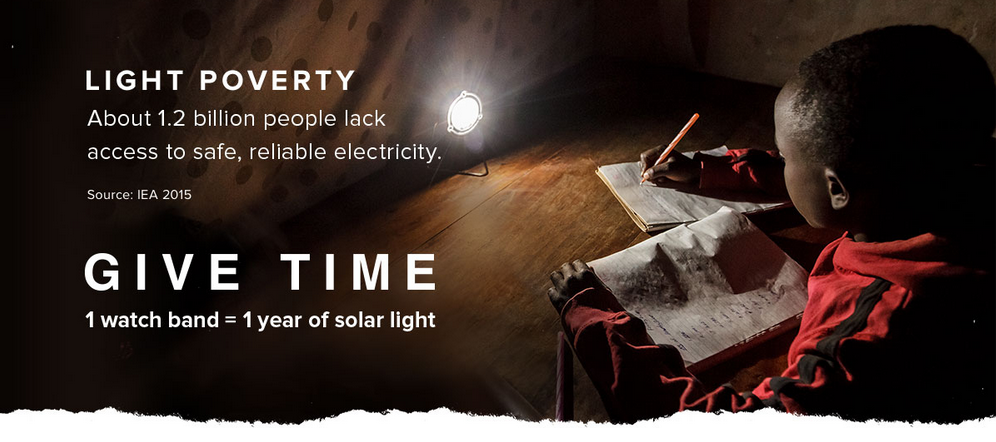 TOMS, the company behind the amazing One for One™ concept, which provides a pair of shoes to a child in need for every pair purchased, has partnered with SolarAid and Solar Sister to help get solar lights to those who need it most.
TOMS has designed watch straps for Apple Watch inspired by founder Blake Mycoskie's friendship bracelets. For every TOMS for Apple Watch band purchased the company will help provide one year of solar light to an individual in need.
"We love the idea of incorporating giving into a product you use on a daily basis." said Blake. "With our new TOMS for Apple Watch band, we will not only help provide light, but we will be positively impacting education, economic opportunity, health and safety for so many people who desperately need it."
TOMS for Apple Watch straps are available in two different styles and several colour ways. Pricing for the straps range from $49 to $75 and are available at www.TOMS.com and TOMS retail stores across the U.S.

TOMS partnered with SolarAid and Solar Sister as Giving Partners, who will receive donations for every watch strap which is purchased to ensure that individuals have access to safe, reliable light sources so that one more child will have the time to study into the night, one more person will have the time to work after dark and earn extra income, and one more family will stay healthy and safe.
SolarAid's founder, Jeremy Leggett, said:
"We're very proud that SolarAid has been chosen as Giving Partner as part of the TOMS mission. TOMS is an amazing brand and their One for One concept proves that business can drive essential social and environmental change. Funds from the sales of the Apple Watch straps will help support our social enterprise SunnyMoney, which distributes solar lights to last mile communities in Malawi, Tanzania and Uganda where they make a huge difference to people's lives."
Solar light has an impact much further than just keeping the lights on longer. Solar light positively impacts:
Education: Solar light allows for additional studying time after the sun goes down.
Economic Opportunity: Families can save an average of 10% of their household income by using solar lights rather than paying for alternative light sources.
Health: Solar light improves respiratory health by eliminating the need to burn kerosene or paraffin within the home.
Safety: Solar light decreases the risk of fire and provides light for travel and necessary tasks.
The Environment: Solar light reduces emissions of C02 gas.
Read more about the benefits of solar lights.