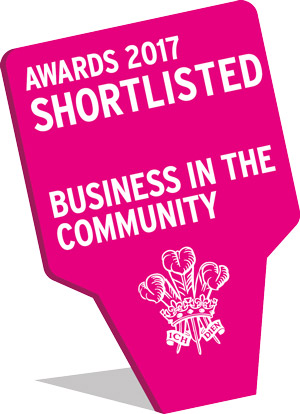 SolarAid is celebrating after being shortlisted for the UK's longest running and most prestigious awards programme, championing responsible business in the UK and abroad.
Now in their 20th year, the Awards champion the most inspiring businesses who are making a difference by taking action to build more inclusive workplaces, stronger communities and tackle our biggest environmental challenges.
SolarAid applied to the awards with our SunnyMoney, Lighting up Africa initiative which addresses a multitude of the United Nations Sustainable Development Goals including: poverty, hunger, health and well-being, education, affordable and clean energy, work and economic growth, industry innovation, reduced inequalities, sustainable cities and communities, responsible consumption and production, and climate action.
SunnyMoney is our social enterprise which combats poverty and climate change by selling affordable solar lights in the poorest and most remote communities in Malawi, Uganda and Zambia. Our goal is to eradicate the kerosene lamp from Africa. Since receiving a high commendation in the 2015 BITC Awards, we have undergone a process of evolving and innovating to ensure we maximise our impact on rural African families. SunnyMoney creates solutions where no one else will act, going to the poorest communities where no one else will go and catalysing sustainable solar markets.
Applying for the award, Dr Jeremy Leggett, Founder and Chair of the Trustees said:
In the 21st century we believe in a world where people should have access to clean safe light. So our campaign goal is to eradicate the kerosene lamp from Africa. It can be done. SolarAid, and it's successful social venture, SunnyMoney are leading the way. With your help we can make this happen.
SolarAid's top tips, which we included in our application, to help businesses that would like to replicate our success include:
Adopting an NGO/Business hybrid model which prioritises social impact
Knowing your target audience through research
Being demand led, not supply led: Once you know what your customers want, cater to it
Receiving the shortlist award, Dr Jeremy Leggett said:
I am thrilled for the SolarAid and SunnyMoney teams in London, Lilongwe, Kampala, and Lusaka, who have worked very hard in the face of considerable adversity for last two years. Our shortlisting for the Responsible Business Award is all down to them. That said, it feels a little strange to be celebrating our shortlisting in Canary Wharf, surrounded by so very much money. We in SolarAid and SunnyMoney know that for £4 we can get a solar light into the field in Africa and it will save more than £50 a year in avoided kerosene costs. At a time of famine, those kinds of financial savings can save many lives. So we invite financial institutions to work with us to earn this kind of big bonus.
The winners of all ten categories, including the Responsible Business of the Year will be announced at the Responsible Business Gala Dinner at the Royal Albert Hall on 4 July, in front of 1,200 business leaders. Fingers crossed…