You may have seen our recent blog about becoming shortlisted for the Unilever Global Development Award as part of the 2017 Responsible Business Awards.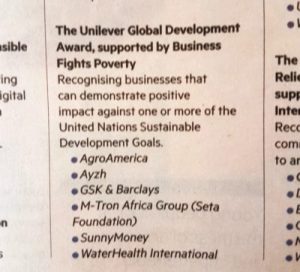 Today SunnyMoney has been announced as finalists for the award for the second time in three years.
Now in their 20th year, the Responsible Business Awards champion inspiring businesses who are making a difference by taking action to build more inclusive workplaces, stronger communities and tackle the biggest environmental challenges.
After being shortlisted, our staff members Jamie and Lorraine, along with Carolin Staehler from Yingli Green Energy went to Unilever House to present SunnyMoney's case to a room of senior business leaders. On behalf of our tireless SunnyMoney teams in Malawi, Uganda and Zambia, they presented our catalytic business based model and our pioneering work with the SM100 and Pay-As-You-Go solar lights as reasons for our unique contribution to global development.
The award's main criteria was to demonstrate an impact to one or more of the UN's Sustainable Development Goals. The impact of our model and the solar lights we distribute has on families contributes to 10 of the 17 goals. Access to even the world's most affordable solar light can transform a families life.
The overall winner will be announced on 4th July at the Royal Albert Hall.
We will keep you all updated with news.
Thank you for your support which allows our hardworking staff in Malawi, Uganda and Zambia to continue their transformational work.