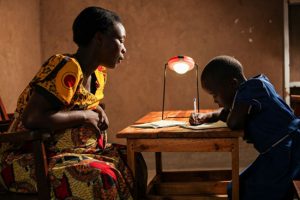 Yesterday the Nobel Prize in Physics for the invention of 'greatest benefit to mankind' was awarded to Isamu Akasaki, Hiroshi Amano and Shuji Nakamura for the blue light-emitting diode (LED). Improvements in LED technology have made small solar lights affordable to some of the world's poorest people living without electricity.
"Nobel recognition of the importance of LED technology is fantastic. The exciting thing about LED lights is that they are becoming more efficient every six months which means LED lighting solutions for rural African households are becoming ever more affordable." John Keane, Global Development Director, SunnyMoney
The efficiency of LED's is a crucial factor in making clean, safe light available to the 600 million African people living off-grid. SolarAid's not-for-profit social enterprise, SunnyMoney is the largest solar light distributor in Africa having sold over 1,350,000 solar lights. 90% of its customers live below the poverty line of $1.25 per day.
"If we're talking about moving from inefficient lighting to efficient it doesn't get more dramatic than the switch from kerosene to solar LED's." Charlie Miller, Head of Policy and Programme Funding, SolarAid
The Nobel Prize noted that the "Laureates' inventions revolutionized the field of illumination technology" and holds great promise to increase the "quality of life for more than 1.5 billion people who currently lack electricity grids, as the low power requirements imply that the lamp can be powered by cheap local solar power."
The low cost of solar lights in rural Africa is already transforming the energy landscape. SunnyMoney now sells a solar light every 40 seconds, while SolarAid has been working with the United Nations Environment Programme (UNEP) and Economic Community of West African States (ECOWAS) to promote a switch from inefficient to efficient off-grid lighting choices.
"Buying kerosene was [costing] too much and lighting it in front of the kids proved very risky. [The] solar light is very safe to use and it's easy, you just charge it." Christine Nchoku, Solar Light Customer, Kenya
SolarAid's ambition is to eradicate the dangerous kerosene lamp from Africa by 2020 by creating markets for solar energy. Further improvements to LED technology will make this ambition even more achievable.
Impact – when switching from a kerosene lamp to a solar light:
On average, a family saves $70 a year from reduced lighting costs
6 out of 10 customers notice better health of family members
On average, children do an extra hour of homework each night
Households reduce CO2 emissions by up to 300kg a year, as well as short-lived climate pollutants