Have you ever wondered if you have too much "stuff"?
As Christmas comes around again the retail sector rubs its hands with glee, as spending goes through the roof, but do we really need to give and receive more and more physical goods?
We sometimes forget (perhaps we're blinded by all the shiny lights!?) that almost 600 million Africans will be spending this Christmas in the dark. Yet it's so simple to help – a single $5 solar light has over 10 positive impacts for a rural African family.
It's been a tough year for people in Africa, the severe drought has left almost 30 million people facing a lack of food. Most of these families do not have access to electricity so they use expensive kerosene to light their homes, which creates noxious indoor air pollution and often causes fires.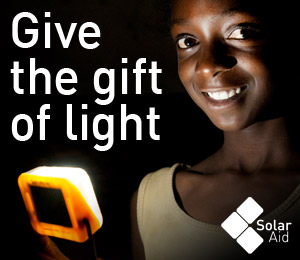 This Christmas, Mumsnet are helping us spread the word and encouraging people to 'give the gift of light' by buying presents which also help light up Africa lives.
Solar lights are at the top of most African's Christmas lists, but we don't have the stock to meet demand. Now more than ever, we need your help so we can continue to distribute solar lights to the families affected by the drought and to other rural communities in Africa.
There are three simply ways you can help 'give the gift of light' this Christmas by buying gifts for your friends and families which also spread the light in Africa:
Give a virtual card and donation
Give an SM100 or other solar light – and help get more lights to Africa
Please, consider giving 'the gift of light' and help a child shine this Christmas.