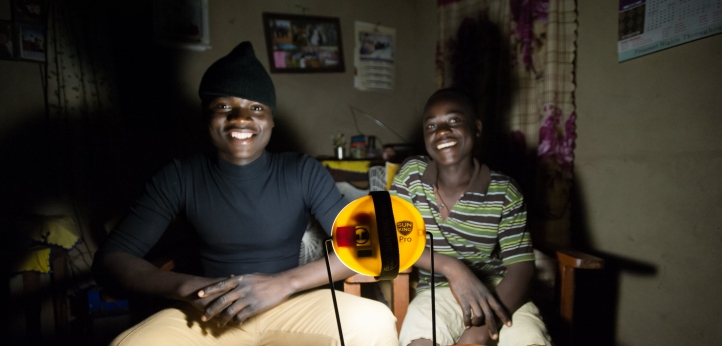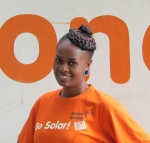 Hi, I'm Nancy Muyeleka. I'm the Call Centre Coordinator here in the SunnyMoney Zambia office. I joined SunnyMoney in June 2013 as a Field Coordinator before taking an office role after the birth of my second child.
I love Zambia; it is such a special country full of great wildlife and amazing people. From Victoria Falls to the Kafue National Park, there are many beautiful regions in this great land.
But Zambia is also a country in crisis. Two years of dry weather has left my homeland without the water supplies needed to keep our hydropower stations running. There are regular 12 hour blackouts meaning that even in the capital city, people cannot get access to the energy they need.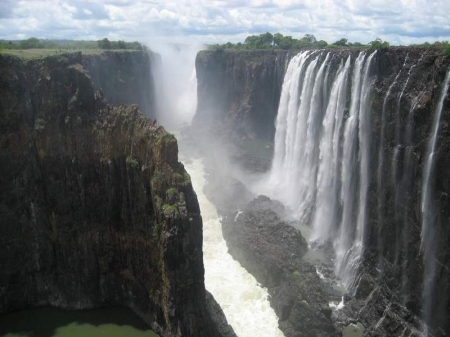 The beautiful Victora falls in Zambia, or Mosi-oa-Tunya ('the smoke that thunders') as it's known locally
In Lusaka, you can hear the noise of diesel generators on every street corner. The price of candles has doubled and for the first time in my lifetime some of my friends and neighbours are using kerosene lamps in their homes.
But this problem stretches far beyond the city. Our famous copper industry is suffering as mines are interrupted during the power blackouts meaning thousands of miners are facing Christmas in the dark and a new year of unemployment.
It is now, more than ever, that Zambians are wanting to turn to solar. Demand has soared over these last few months. Members of my family have even become solar agents, buying lights from me at the SunnyMoney office and selling them to friends and neighbours. They are earning some extra money and helping their communities save at the same time. My colleagues in the field tell me that we recently sold six months' worth of lights in two months during our last visit to the Copperbelt.
Solar lights are at the top of every Zambians' Christmas wish list.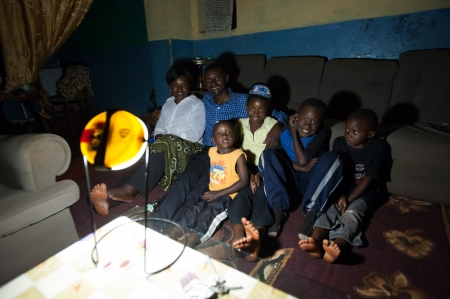 The Skala family in the Copper Belt region of Zambia making use of their new solar light
But we just don't have the stock to meet demand. The energy crisis has caused rampant inflation which is sending shockwaves right across the country making it harder than ever to deliver light to my fellow countrymen.
This is a really important time for the growth of Zambia's solar market. Unlike Tanzania and Kenya, the conditions aren't yet right for 'for-profit' organisations to enter the market and start selling lights. Zambia needs support and a lot of hard work to ensure that we can keep making these lights available and affordable, especially during this time of heavy demand. There is no one else who can do it.
With support from the UK government our teams are just about to start their schools campaigns in Mansa, Samfya and Isoka which are a 12-15 hour drive from Lusaka. Most people in this region rely on farming as their main source of income and this is exactly where the light is needed most. It is going to be tough for my sales colleagues who will be away from their families for three or four months, but they are all really hard working, dedicated professionals. They know how important light is to families, communities and – at this particular moment – to the country as a whole. But we need to make sure we go out to these areas in the best possible shape, with as many lights as we can carry.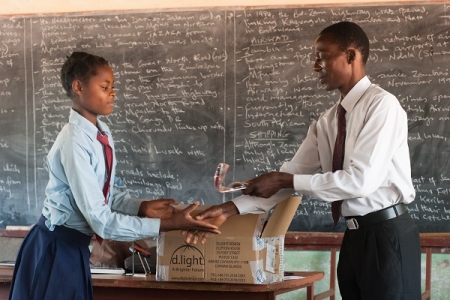 A head teacher hands out solar lights at a school in Zambia
I'm one of the lucky few who have solar lights in their house. I have three lights which can charge my mobile phone and a home system too. But many families will be spending this Christmas in the dark. So if you can, show your support for SunnyMoney and we'll make sure that next Christmas is one of light and joy for the people of Zambia.
A donation of just £30 will help ensure that around 10 families will be able to save valuable money and continue working and learning into the night with a solar light. It will give these families an opportunity to enter the new year with a sense of hope and opportunity. It will give them a chance to shine.
Thanks for your support and have a very Merry Christmas from everyone in Zambia.
Nancy