Over the coming weeks, SolarAid's Jamie McCloskey, Programme Partnerships Manager will share a series of stories on his recent trip to our SunnyMoney operations in Malawi, Uganda and Zambia.
Watch this space.
---
 "It is now a questions of who does not have a lamp rather than who does."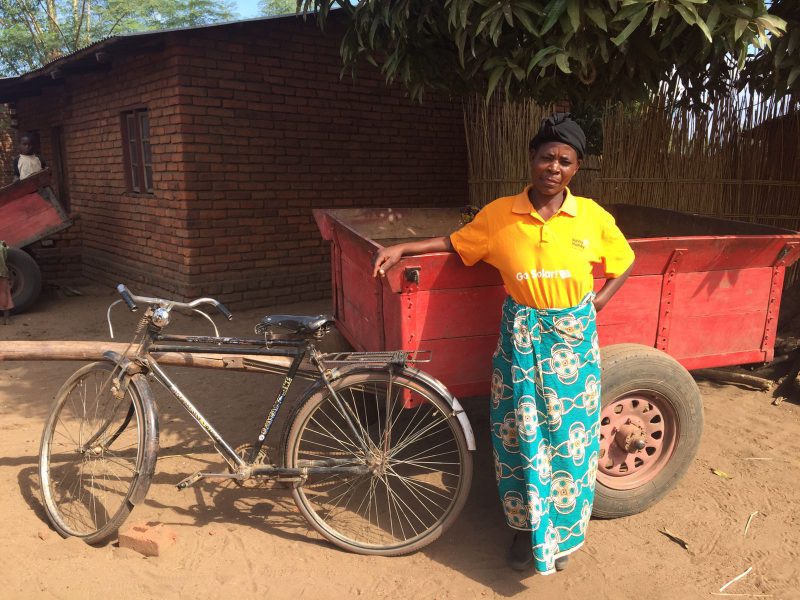 Ellis Bwanali, a SunnyMoney Agent, proudly shared this news after welcoming us into her home to tell us her story of how she has single-handedly brought light to a small village in Salima District, Malawi. With so many enjoying the impact of a solar light, she is now seeking to find the remaining few without access to clean and affordable energy.
Having just returned from 3 weeks in Malawi, Uganda and Zambia with our SunnyMoney teams, these are the words I cannot forget.
Since joining SolarAid in 2014, we have endured some difficult times. The solar lighting markets taking off in Tanzania and Kenya were incredible achievements for SolarAid. Our work to create awareness, availability and demand for solar lights in rural areas helped the first solar lighting markets in Africa take off. While incredible, the speed in which competiton entered the markets caused an impact on SolarAid as a whole – especially for Malawi, Uganda and Zambia.
Ellis' words, which were the sentiments shared by all the head teachers and SunnyMoney Agents that Lorraine Hammond (Group Accountant), and I met, shows us that our model works. If we can work with our dedicated teams to equip the head teachers and agents with the tools they need to succeed, we will light up these countries where the need to access to clean and affordable energy could not be more important.
SolarAid works in the areas where business will not go. As the sector's focus is moving to more expensive Solar Home Systems in areas where demand exists (which is great for the development of markets), we exist to ensure those who cannot afford these systems, or may not even know about solar lights, can have their chance to own their very own solar light.
As Ellis is setting her sights higher, so are we. She, as with all of our SunnyMoney Agents, want to grow to have an even greater impact.
Over the next 10 weeks, I will be posting a blog up each week to share the stories of our trip (including Ellis'). Not only that, but I will seek to highlight the new programmes, innovations and structures SolarAid has been working on and implementing to ensure we are working where others will not – making solar lights even more affordable and available for those in the most rural areas.