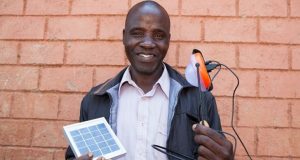 This is Joseph Mtange, Headteacher of Kodeny Primary School. Joseph is not just a head teacher however, he's an entrepreneur with a social conscious as well. Joseph is one of hundreds of people who are taking advantage of the increased demand for solar lights by becoming a SunnyMoney agent, supplementing their income while ensuring access to safe clean solar lights for their community.
Joseph lives in an area where around 99% of the community lack regular access to electricity. Joseph can see that the main needs of his neighbours are 'a better quality of life, increased income, better health and a better future.' Most people in his town use kerosene lamps to light their homes which he says are 'expensive and dangerous to health' with most people having to travel into town to charge their phone.
Well thanks to Joseph people in his community can now charge their phones on their new solar lights. As if widening communication channels and encouraging business and enterprise wasn't enough for Joseph, it wasn't the main reason he became a SunnyMoney agent. When asked what made him become an agent Joseph answered simply 'for the students'.
We'd like to thank Joseph for helping Light The Way for thousands of rural Africans. It's because of the hard work and dedication of entrepreneurs like Stan that we've been able to sell over 1.4 million lights.
Now, can you do the same here in the UK? Just like Jospeh we'd like you to help Light The Way. Can you tell some of your friends about our work and this amazing opportunity to get your donation DOUBLED by the UK government?