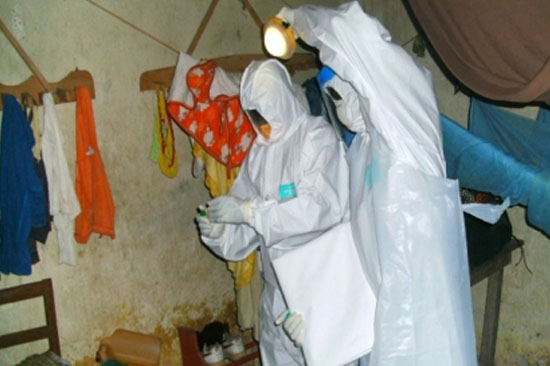 Keith Neal, who discovered SolarAid via the 2012 Radio 4 Appeal, explains how his work promoting solar led to helping control the spread of Ebola in Africa…
I'd like to extend a big welcome to any new SolarAid supporters who have come to us via the Radio 4 Appeal. If you're like me, you'll probably be looking around the website to try and get to know the charity a bit better. There's plenty of information about the impact of portable solar lights on families in off-grid communities. It's also impressive how SolarAid's market building approach enables our donations to be used in a very cost-effective way.
In the years since SolarAid's last Radio 4 appeal I have helped support its work in a number of ways. Through SolarAid's online eco-shop I have been able to maintain a stock of lights at home so that I can sell them when opportunities arise. These have largely been when giving talks to Rotary Clubs, Probus Clubs, church groups and schools. To-date, I have sold some 250 lights, including 40 SunKing Pro 'All Night' lights that charge mobile phones. A few of these lights have found their way to Africa through friends wishing to help their relatives who live in villages without electricity.
I was able to help fight the spread of Ebola in Sierra Leone through a friend whom I knew had volunteered to work with the Medical Director for Bo, the second largest District in the country. Knowing that there was very little electricity outside the City of Bo, I emailed my friend to enquire whether a few portable solar lights would be of assistance to the medical teams. The Medical Director wrote back immediately to say that any help in this direction would be greatly appreciated.
To cut a long story short, this offer developed into an international emergency operation. SolarAid in the UK negotiated with Greenlight Planet in the United States to supply 100 SunKing Pro lights via their factory in China. The funds were raised and the lights purchased. DHL got the lights flown from China to Sierra Leone. My friend drove 130 miles from Bo to Freetown to pick up the lights from the DHL office. The Medical Director then distributed them to all 14 Chiefdoms in the District.
Later he wrote:
'The donation was very timely and contributed greatly to the control of the spread of Ebola in the district. The lights are very useful for our burial teams when they are working at night. Our Basic Emergency Obstetric and Neonatal Care Centres use these lights to work at night especially in the labour room when delivering pregnant women. The Chiefdom Taskforces use them to conduct meetings at night.'
It was humbling to realise the results of that one email to a friend. But that's how things work in this modern connected world, if you actually have access to electricity, a computer and the internet! We often take these things for granted and yet it is so rewarding to see what can be achieved with just a little effort. I encourage anyone who has recently discovered SolarAid to think about the people you know who might be able to help. It's amazing what just one email can lead to…
News of SolarAid has also spread to China through my regular English conversation classes at a Chinese Church in Manchester. Those who attend are Chinese visiting scholars and postgraduate students who wish to improve their spoken English. Retired people, mostly ex-teachers, volunteer to engage in conversation – each with 2 or 3 Chinese. For me, one topic of conversation is solar lights and I always have some available for demonstration! Charity work creates huge interest because this has not been part of Chinese culture. I pay tribute to the partnership between the American companies that design the lights and the Chinese manufacturers. Sometimes I have people who want to buy a light.
So what can we do to move things forward? Attitudes to global warming appear to be changing significantly after the Paris Climate Agreement. It's possible that global players will find ways to accelerate the switch from kerosene to solar in Africa and end the injustice whereby millions of people have to live without electric light. What we have to do is to publicise, by every means possible, the fact that a grassroots solution is already here, and ensure that action is being taken today.
SolarAid is extremely grateful to Keith Neal for all his hard work and support. If you missed the Radio4 Appeal you can still listen to it here.