We are very pleased to report our SM100 solar light has been featured on both the BBC website and in the Financial Times (paywall).
The articles agreed that the SM100 – developed by SolarAid with Chinese solar giant Yingli, and designed by cool UK design company Inventid – presents a great way of fighting poverty in Africa and elsewhere.
With the SM100, SolarAid can turn a £4 donation into £145 of cash savings for African families to spend on food and essentials in east Africa in a time of famine. There cannot be many social-benefit paybacks as good as this, so we're very proud that the FT and the BBC have recognised this and written about the SM100.
Special thanks go to Bryn and Harry from Inventid for all their hard work on the design of the product.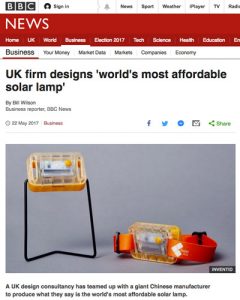 You can buy your very own SM100 in the SolarAid shop which will also provide funds to help get more SM100 solar lights to Africa or, if you would like to support our work, you can donate here.