---
"Mummy, mummy, where's my boubou? Where's my boubou?" It's frantic inside Seynabou's hut this morning and she is tired. She's been up since 5 am, dressed in the dark, collected firewood several kilometres' walk away despite being six months pregnant. She's lugged bags of potatoes to the cooking area, lit a fire and prepared breakfast for the 12 members of her extended household and carried litres of water to their hut for bathing her four older children. It's the normal routine for the women of rural Senegal where six million people face energy poverty.
And now the almighty African sun is turning its full force on rural Sine Saloum. The lagoon's waters glisten, the magnificent Baobab stand proud and the rest of the villagers are stirring. Today is a special day, the villagers will soon be readying themselves for Tabaski, the biggest festival of the year in this predominantly Muslim country.
Family and community is everything to the Senegalese and when there is a reason to come together and celebrate, they find a way. In Seynabou's village, most men are employed in seasonal agriculture, bringing home earnings just four months of the year. The women (of whom only 13% receive secondary education) work up to 17 hours daily on domestic tasks; walking for two hours to get to the market and back, cooking over open fires emitting toxic fumes and caring for the home, children and the men. They also try to earn as best they can collecting peanuts, harvesting salt from the lagoon or discarded plastic they hope to sell. It's not easy to make ends meet. And yet, today there will be a feast, for which every family will be expected to contribute financially, handing over one or two banknotes during the meal, even if it means existing on rice alone for weeks to come.
Beyond the prayer and feasting there is another very important component to Tabaski; dressing for the occasion in brand new boubou, the traditional dress composed of a scooped-neck open-sided tunic over a skirt with an elaborately arranged cloth headdress known as a moussor; made of bright shiny material.
That's another reason why Seynabou is tired; she is a tailor. Sewing is a small supplemental source of income. The only challenge is that you can't sew in the dark and with up to 17 hours of domestic work each day, that doesn't leave a lot of daylight hours to perform her craft.
But Seynabou is a determined lady. "Women are the home, the force in our communities, we must act to change the path for our families, communities and daughters." She has diligently sought economic opportunity over time by selling peanuts by the side of the road, by styling and plaiting women's hair, and sewing; but it is never enough.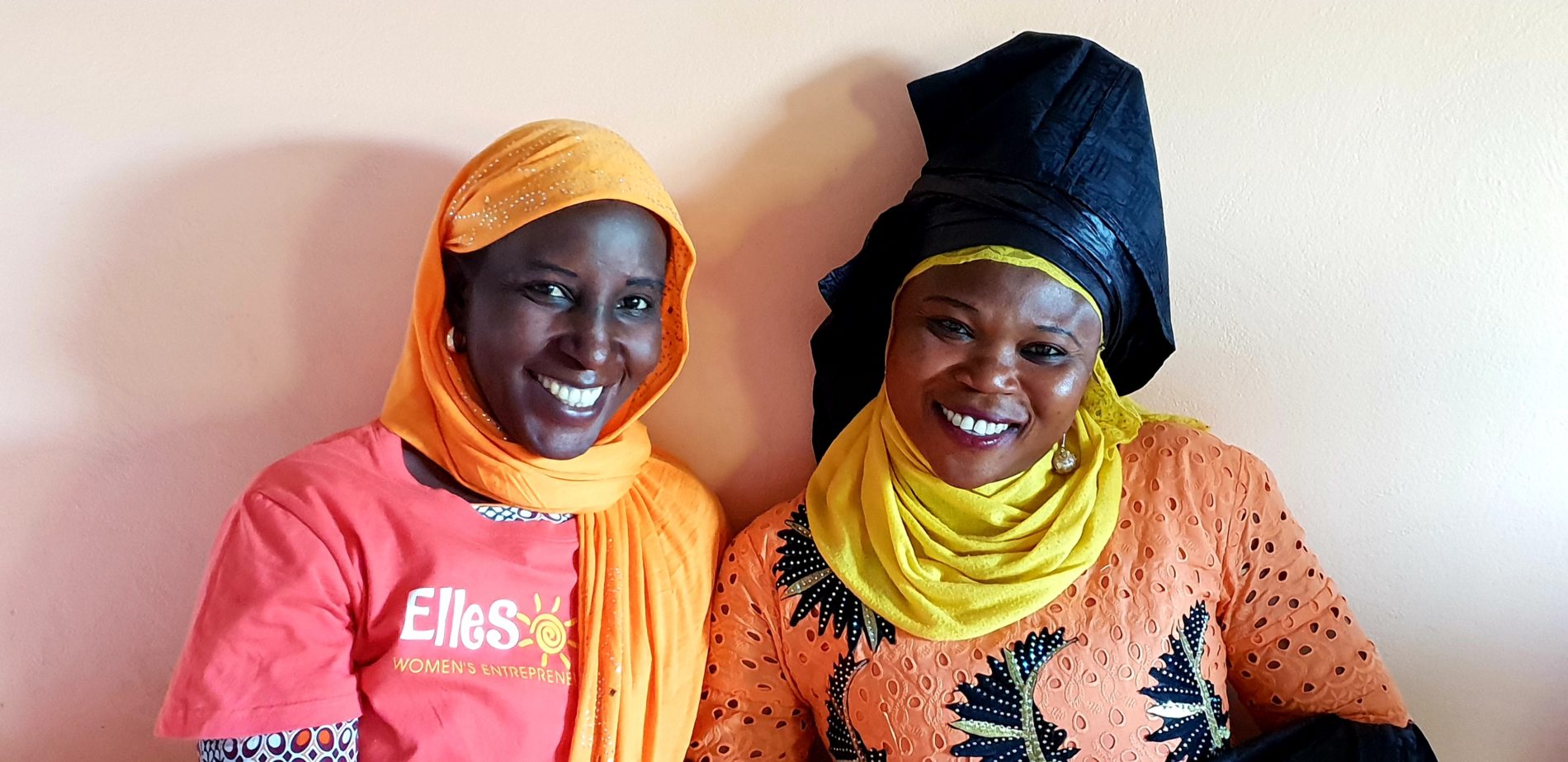 A new opportunity for women
"Clean energy entrepreneurship offers a firm path to economic advancement and meaningful inclusion for women living in rural communities in West Africa. Trusting local women and giving them a voice to make a difference for their communities will be the bringer of sustainable positive change," says Kelly Nwachuku Lavelle, Founder and Executive Director of ElleSolaire. She visited Seynabou's village last year to present her organisation to the villagers. ElleSolaire (literally 'She Sun') is training women in clean energy entrepreneurship sales and marketing. For Seynabou, this was an opportunity for her personal growth. Becoming a last-mile solar energy distributor would mean having a regular income of her own and it would significantly improve the wellbeing of her community.A new opportunity for women
ElleSolaire hosted Seynabou and other new sales agents at a two-day training event and she left with her allotted inventory to sell, a smartphone with the Angaza app for tracking pay-as-you-go sales, and equipped with the know-how and an appetite to succeed. Once back home, Seynabou's first action was to acquire solar lighting for her own home which would henceforth serve as her 'showroom'. It had the added advantage of enabling Seynabou to sew at night.
It's amazing what women with energy can do
Seynabou is one of many working to increase energy access and fight gender inequality across Africa. ElleSolaire's pilot brought light into the homes of over 3500 people in the Fatick region for the first time and Seynabou was one of 545 women receiving incremental income. Its success saw the social enterprise entering into a partnership with SolarAid and being awarded the D-Prize in the last quarter of 2018. Today, the scale of operations has increased and many more women and communities' lives are expected to be positively impacted by ElleSolaire and other organisations contributing to the Powering Jobs movement.
Tired as she may be, Seynabou has cause to truly celebrate this Tabaski. Her entrepreneurial efforts have provided a source of independence and confidence. The solar lamps in her home not only mean her daughters can study at night and may even get to secondary school but also that her sewing business operates in the evenings and is growing; her tailoring revenues in the build-up to Tabaski this year increased by 100%.
Micha Sprinz is Director and Communications lead for ElleSolaire.
---
This article was published in The Beam #9 — Voices from the Global South. Subscribe now to read more on the subject.