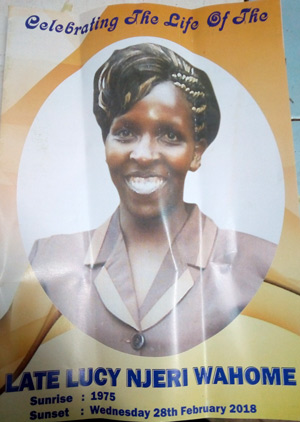 On 28th February 2018, Solar for Peace Initiative, Kenya, lost one of its leading members.
Lucy Njeri, fondly called Mama Solar, fell ill suddenly and died on arrival at the Kenyatta Hospital, Nairobi. Lucy was a natural convert to SolarAid's mission to eradicate the kerosene lamp from Africa. She was also concerned that over 5 million households in Kenya were using firewood for lighting purposes.
In 2013, Lucy introduced solar lights in her neighbourhood of Uthiru, Nairobi. She was very persuasive and very quickly she was able to sell hundreds of SunKing Mobile lights, mainly to small business enterprises. She organised them into groups to empower their members economically and promote national cohesion.
Today, Uthiru has a very high concentration of SunnyMoney products and the solar lights can be seen at night in the many small business entities that operate up to 10 at night. Lucy visited many parts of Kenya promoting solar lights and empowering communities in the villages and trading centres and features in the Solar for Peace video of Baringo below.
Over a period of 4 years up to the end of February 2018, Lucy single-handedly sold over 5700 solar lights. These became a major source of income, enabling her to support her family as the main bread winner. She was able to train several other people across Kenya. One of her sisters, Alice, sells solar lights in Narok County.
Lucy was also instrumental in mobilising communities to plant and care for trees. She was born 43
years ago in Olbolossat Forest close to the Aberdare Mountains in Nyandarua County. She was laid
to rest on 14th March in Kagongo village in the heart of the Aberdare forest. Hundreds of people
travelled from all corners of Kenya to give Mama Solar a warm send off. The ceremony culminated
with the planting of hundreds of trees and the sale of solar lights, with all proceeds going to Lucy's
family. She has left behind her husband John and five children, four girls and a boy. The day ended
with heavy rain that watered the hundreds of trees that had just been planted. Though Mama Solar
is no longer with us, her spirit lives on.