The Test
SolarAid Founder and Chairman invites you to download his latest serialised ebook – The Test.
Solar light for all: a defining challenge for humanity
The conundrum of expensive and high-carbon kerosene vastly outselling inexpensive and zero-carbon solar is a defining test of humankind's instinct for collective survival, Jeremy Leggett argues.
If we cannot quickly replace oil-for-lighting with solar lighting, he asks, given all the blindingly obvious economic and social imperatives for so doing, what chance do we have with all the many other global problems we face?
From the very front lines, as founder and chair of SolarAid, he chronicles the global community's efforts to pass The Test, in serialised chapters as the story unfolds.
---
"Leggett brings us another vibrant, first-hand account of the continuing struggle for energy revolution, showing how the tipping point away from fossil fuels has clearly been reached, but that much effort is still required for even simple tasks like ridding Africa of the kerosene lamp."
Ashley Seager, Former Economics Correspondent, The Guardian
"….an enthralling, vivid, narrative …if you start reading you won´t be able to stop, I guarantee"
Walt Patterson, Senior Associate, Chatham House
"This book is better than "Game of Thrones" in the tension it creates for me in wanting to know what happens next. Leggett writes about the most important issues of our times – poverty alleviation and climate change solutions – in the mode of a can't-put-it-down adventure story. Certainly in the wonky world of energy and climate politics you won't get anything as readable and real. Sign up for free downloads now to find out if we, humanity, will pass The Test and how you can help make it so."
Danny Kennedy, Managing Director, California Clean Energy Fund
"….gets to the heart of a great global issue, in unputdownable prose"
John Hassard, Imperial College Institute of Security, Science and Technology

"very moving and provocative"
Dan Shugar, CEO, NEXTracker
"….more brilliant insights from Leggett"
Charmian Gooch, Co-founder, Global Witness
"Enough of the pontification: we're only into chapter 2 of 'The Test', and the betrayal of some of East Africa's poorest people already shouts out for urgent action. This has to be the simplest message in our sustainability world: kill kerosene for lighting now, in the process eliminating billions of dollars of government subsidies. Cut out the poor quality counterfeit lights, and allow today's quality-verified solar lights to deliver the biggest possible economic benefit to households, communities and national economies alike – in terms of the massive uplift in net purchasing power that would result."
Jonathan Porritt

---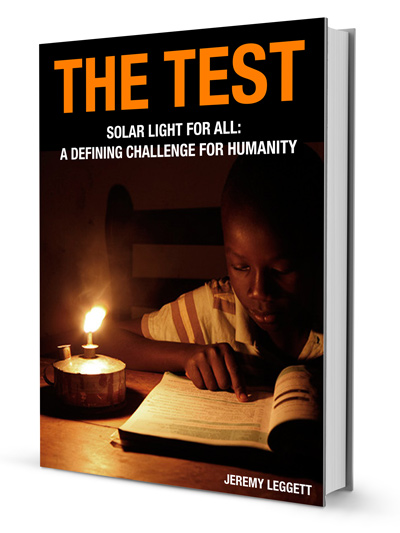 To download the latest issue and receive updates when new chapters are added please provide your details in the form and we will email you a download link straight away. We will also add you to the SolarAid newsletter, which provides updates on our work, from which you can unsubscribe at any time.
If you are already subscribed to the SolarAid newsletter please check the latest newsletter from SolarAid, which contains a link to download the book. If you are on the mailing list but have not received our newsletter please email info@solar-aid.org and we will send you a copy of the latest issue of The Test.
NB: If you do not see the email (containing the download link for the ebook) in your inbox within two minutes please check your spam / junk folder.