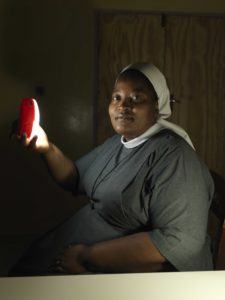 Sister Martha has worked at St. Luke's hospital in rural Zambia for 16 years. 6 years ago, the hospital got access to solar lights, but Sister Martha remembers a time before that.
"It was very difficult. During night the hospital depended on our reserves of petrol for our small generators. If an emergency came in during the night, only then we would use some of the petrol to have some light. Only during emergencies."
"The doctors and nurses, with the light they can trust their skills. Before, there was darkness. There is light now, and the sun shines for us, for the people, for everybody."
"When the patients leave, they feel happy and spread the word of sun power in their homes and villages", explains Sister Martha.
Access to light is vital for health workers to be able to treat patients safely.
No clinic should be left in the dark.